the last day of scorpio aka katia day!
otherwise known as.... my birthday
two weeks ago, one of the gentlemen I work with beckoned me over with a finger after we danced (he in wheelchair, holding hands and swaying arm-bridges side to side, his thumbs tapping out the beat) - he said "I have a birthday to announce", then turned his finger onto himself with a smile. he is turning 94 later this month, and specifically requested he be sung to. "I want to hear it", he said. I already knew it was his birthday coming up, as I have known every year since he turned 90. It is his one of his biggest wishes to reach 95 and celebrate with his people. what an honour to have become one of his people.
not only that - but what an HONOUR to witness such self-celebration. no shame! just joy and playfulness! asking for what he wants! I thought I had learned from him - and yet. today. on my birthday. the most I managed was a "I had a birthday weekend away" story on instagram. I really wanted to tell everyone "hello hi it is my day send some love my way!" - but I held back. I'm not totally sure why. I have always loved my birthday. back in elementary school (age 9 and surrounding ages), I would literally get hiccups annually on my birthday out of the sheer excitement and HOPE of celebrations and feelings of connectedness. this says mountains about how disconnected I felt as a kid, how little the people around me expressed care, admiration, love. not at home, birthdays were always a thing at home - but at school which at that age IS your community.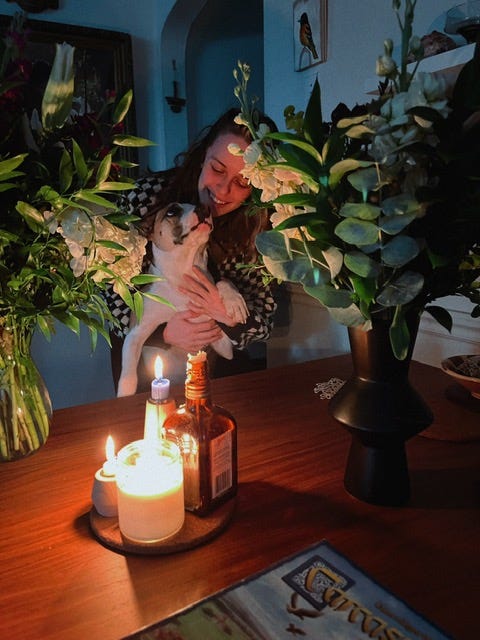 anyway. enough of that more therapy-appropriate-rabbit-hole. I was celebrated by all my "people" today and this weekend, the same way the gentleman at work wants to be celebrated by his. flowers! cake! dinner! wine! board games! snuggles! I feel spoiled, loved, KNOWN!!!!
and is it not ultimately just a bit of being-known, having those around you know you like your birthday to be special, not judge you for not being blasé, embrace your enthusiasm for celebrating yourself?
my uncle texted me today:
and thus I was reminded again. so here we are - still under the guise of self reflections and thoughts and ideas and and and…. but it is me! telling you! it is my birthday today. you needn't do anything but I am glad to tell you that I am happy to embark upon another year around the sun. I am happy to be 29. I am happy to enter this year feeling a little higher, lighter, more hopeful, than most of 28 was.
I am happy.
---
A reminder that I've got a workshop coming up!
Dec 11th - 2-4PM EST! I would be so happy to see you there!
---
it is also nearing the end of the window to guarantee "holiday-timed" collage commissions if you're hoping to give one as a gift this year! please reach out by email or DM on instagram to get started!
---
thank you for reading my friends!
Xx